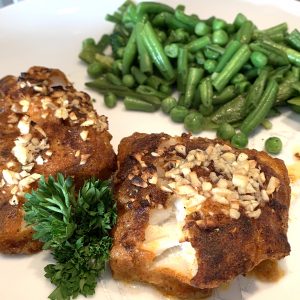 Print Recipe
Greek Baked Cod
This dish is quick to make (don't be put off by the number of pictures in the instructions). This recipe makes 2 portions. The flavour is out of this world.
400

g

Raw Cod Fillets

3

Cloves

Fresh Garlic

4

Dessertspoon

Lemon Juice

25

g

Butter

2

Dessertspoon

Flour

1

Teaspoon

Ground Coriander

1

Teaspoon

Paprika

1

Teaspoon

Ground Cumin

1

Teaspoon

Salt

1

Teaspoon

Black Pepper
Preheat your oven to 200 Degrees (Fan). Pat your cod dry with tissue. Chop your garlic finely.

In a bowl mix together your flour, cumin, paprika, salt, pepper, coriander.

In another bowl add your lemon juice and butter and then nuke for 20 seconds to melt the butter and stir well. Season with salt and pepper

Add some spray oil to a wok or large frying pan, heat on high for 60 seconds. Now, dip your cod into the lemon and butter mix, then into the flour mix, shake off any excess flower, then carefully add to the pan.

Cook for 2 minutes on one side...

Then turn over and cook for 2 minutes on the other.

Transfer to an ovenproof dish (CAREFULLY using a spatula). Add your garlic to the remaining lemon and butter sauce, and then spoon over the fish.

Bake at 200 Degrees C for 10 minutes.

Remove and CAREFULLY using a spatula serve and enjoy!