Its ALL Excuses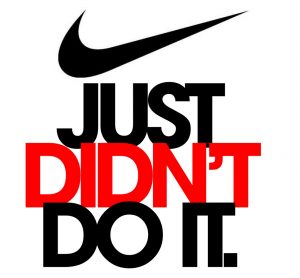 Firstly, before you read this, please understand that as a diet plan writer I advise everyone to take it slow, be relaxed, don't attempt to be all or nothing, realise this is a journey not a race and that to be successful, you have GOT to be able to flex and bend with your eating.
HOWEVER
There is a time and a place to flex and bend. And a time and place when NOT TO, and December and the associated festivities are literally 2 weeks away!
If fat loss is your goal and it is your primary focus then you MUST realise that the times you flex and bend are the times you CHOOSE TO.
Special occasions

Parties

Family get togethers

Celebrations etc
Times where you WANT to let go, sack the diet off and chill out. No moaning, no complaining on the consequences. Fun times all round.
BUT AT ALL OTHER TIMES you need to diet!
You have to build up a positive balance in your dieting bank account. You can only enjoy the occasions listed above IF you are in credit. If you are complacent and reckless at other times, when you don't need to be, then you will never move forward with your goals.
You need to diet when you can and there is no reason not to, giving you brownie points to offset against when you choose NOT to
Now to do this you have to stop making excuses!
"Got in late from work so grabbed a chippy"

"Had a stressful day so ate a load of biscuits"

"Wasn't feeling too great so didn't bother logging my food"

"Got lot's on my mind at the moment so just filled my face"

"Forgot my lunch and the only thing available was Maccies"
the list goes on and on and on and on and on. I COULD WRITE A BOOK
The truth is all of these are simply excuses because you could not be arsed or bothered to diet. You saw it as a justifiable reason to explain away the fact that it was an opportunity to account for yourself not bothering to stick to your diet.
In other words, you couldn't be arsed and actually didn't WANT to diet, because believe me, you can make good choices and still diet and do minimal, if not NO harm to your diet, in ANY SITUATION, ANY.
All of the above are literally, quite simply, excuses, because it was the easy way out, and the truth is, you know that's true, because you have said one or more of the above yourself at some point in your dieting journey.
This isn't a dig, I know dieting isn't easy, but you have to stop kidding yourself. 
You have to realise that dieting, successful dieting IS about balance, but that balance only works when you manage your diet responsibly.
You nail the days and times you CAN (or at the least do minimal damage) so you can enjoy the times you choose not to.
Don't think you can have your cake, and eat it. You can't. Not with dieting.
You CAN have the cake, but only as long as it is preceded by, or followed by, a period of NO CAKE lol.
AND if this post has not offended you enough, read this one next….